Fix Wi-Fi on iPhone 4S – the crazy fix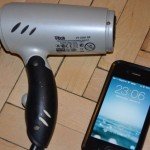 The grey Wi-Fi issue on iPhone 4S devices (the one when you can't enable Wi-Fi at all), caused by iOS 7 is hardware based and cannot be properly fixed otherwise than by changing the Wi-Fi chip on board of iPhone.
It costs around $50 in non-Apple repair stations to fix Wi-Fi on iPhone 4S. Apple itself suggests getting same phone model for $200. And most of exchanged phones have the same issue. It appears in just a few days after exchange.
However, there is a crazy fix that actually works, and we verified it. Proceed with it at your own risk.
UPDATE: [highlight] More than a year after this original article has been posted, we strongly recommend bringing your iPhone to a repair station to fix your Wi-Fi. The fix described below may work for many months, but it is not permanent in any way. In my personal experience, I realized it isn't just worth my time to fix it every month – which is how much the fix lasts on average.[/highlight]
Steps to fix Wi-Fi on iPhone 4S
Reboot your iPhone
Use hair dryer to blow into the hole where you connect headphones for duration of 4-5 minutes
You should get warning message in iOS saying that your iPhone needs to cool down before it could be used further
Do not turn off your iPhone
Wrap it in something to avoid moisture and put it in the fridge
Take it out. Viola! your Wi-Fi is working
The fix is not temporary! We had stable Wi-Fi for 5 days and it's still up.
How it works: it seems that iOS 7 causes overheat of Wi-Fi cheap and it gradually raises its internal shutdown temperature setting. The steps listed in the fix reset the Wi-Fi chip's shutdown temperature setting.  Properly working Wi-Fi chips are not affected by iOS and the setting is always constant.
P.S. Apple, please provide a hair blowdryer with each iPhone!
P.P.S. The fix provided stable Wi-Fi connectivity for a period of one month. After that, we had to redo it and Wi-Fi is working again without issues.
It is now June and for the period of 5 months since this post was published, we had to repeat the fix 5 times. So it lasts for about one month. Make sure to do the fix in advance before you go traveling, otherwise you will have to enjoy your vacation without Wi-Fi.